Wildlife Sightings This Week: August 30 - September 12, 2019
Hey-ho, fellow nature enthusiasts, the fall warbler migration is finally upon us! Warblers are this correspondent's favorite birding quarry. Of the roughly two dozen common Eastern United States species, only a few nest in our community. But come spring and fall, a steady stream of specimens pass through on their migratory routes. They are numerous, but inconspicuous unless you know how and where to look for them. Most active in the mornings, they are tree perching birds, and one must look high in the tree canopy to see them. Naked eye sightings are possible, but binoculars are nearly essential to spot the field marks to confirm which species one sees. They are in constant motion, twitchy, and thus difficult to photograph by mere amateurs such as myself. Last Saturday and Sunday mornings I birded the trails behind the Rose Valley Pool and the Crum Woods, and saw several pockets of warblers that I could not identify due to back-lighting or distance. But I was able to confirm sightings of black and white warblers and pine warblers.
In addition to these warblers, my own observations since the last report include:
Southern leopard frog hopping across the path in the Crum Meadow

Northern water snake at the Saul Wildlife Preserve in Rose Valley (basking on the stream bank rock pile just downstream from the remains of the stone dam)

Green heron on the bank of Crum Creek in the Crum Woods.
Sightings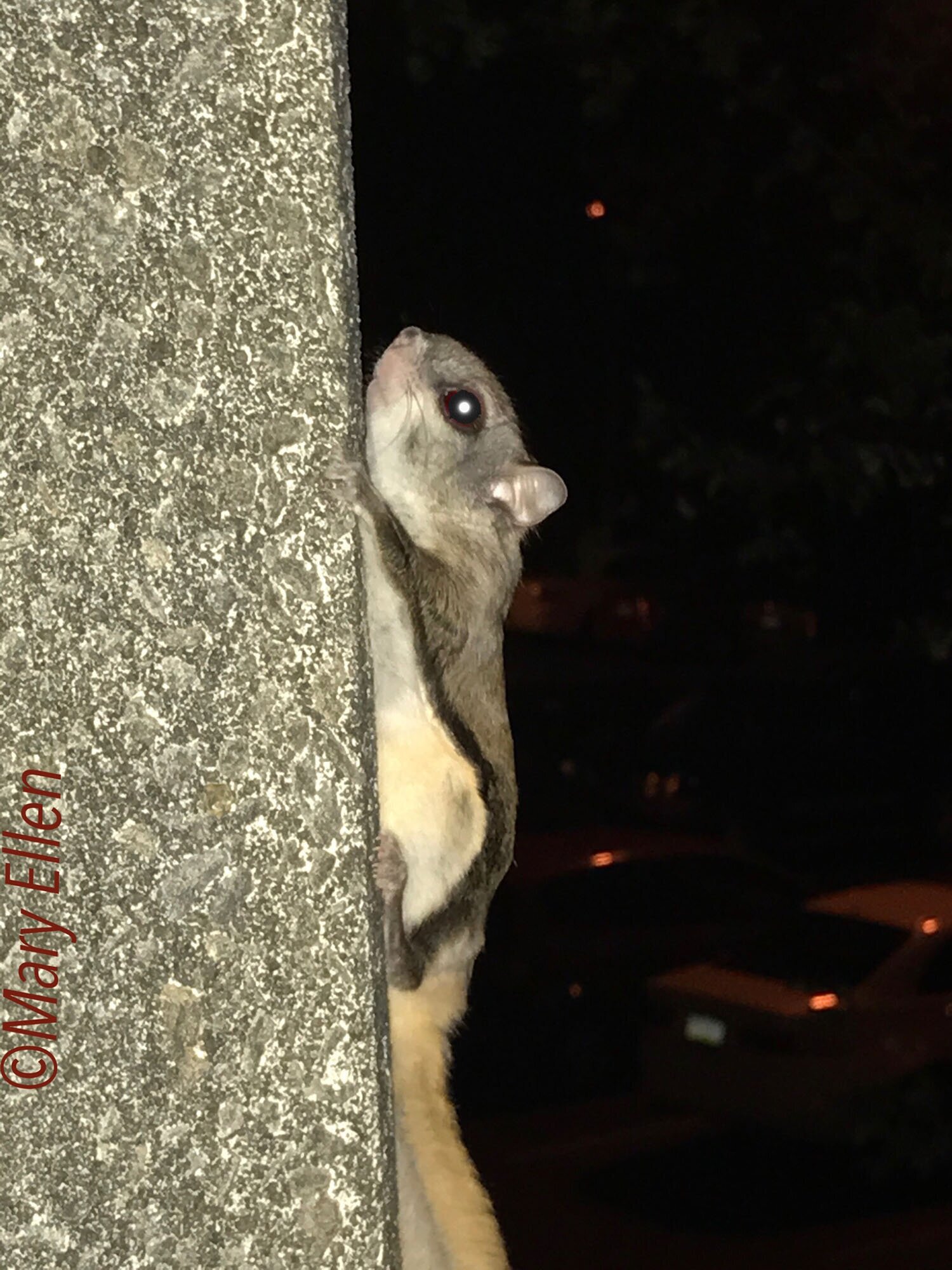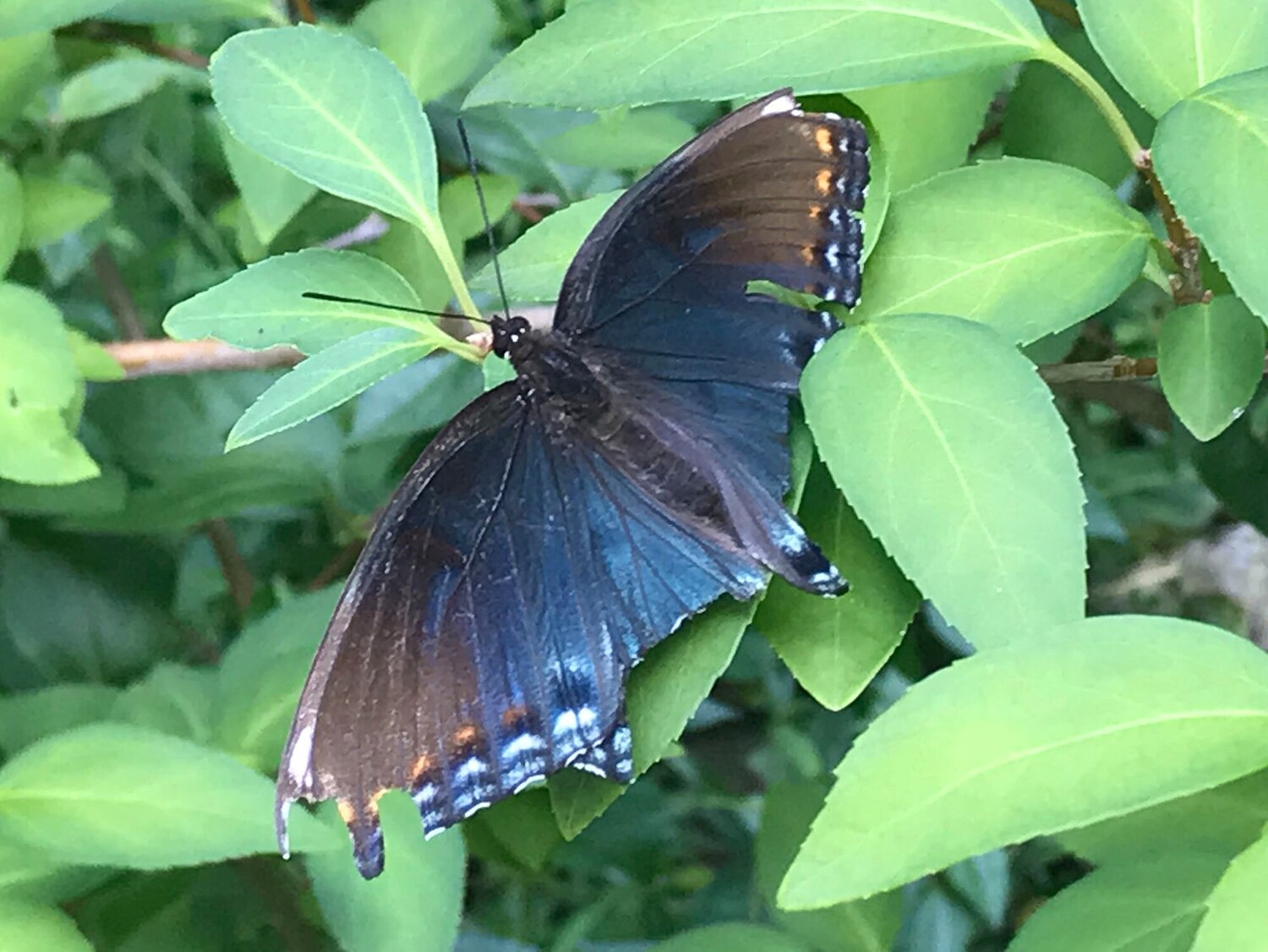 Dave Eberly reported that he saw "38 species of birds in my yard Saturday. It was the day after the hurricane brushed us.... They were in a wave that suddenly appeared right around sunrise." Among his sightings were an ovenbird, black and white warblers, American redstarts, blackburnian warblers (see photo), and a black-throated green warbler. His photograph of the blackburnian exhibits some of the field marks relevant to distinguishing warblers. Note how thin the bill is compared to a goldfinch for example. Also note the wing bars and facial color patterns. In addition to these warbler species, he observed an Eastern wood pewee, least flycatcher, and blue-gray gnatcatcher on that productive morning.

Mary Ellen (last name withheld) of Wallingford reports recurring visits of a Southern flying squirrel to her property. She submitted a photograph showing the nocturnal species' large eye and its skin flap used for gliding — easily distinguishing it from the common diurnal Eastern gray squirrel.

Laura Memeger reported seeing what she first thought was a hummingbird, but which was in fact a hummingbird clearwing moth feeding on flower nectar in her garden. Thus alerted, I noticed one as well a few days later on Lafayette Avenue. Laura and I both took photos, but with their rapid wing beats per second, the photos are quite blurry and unsatisfying. This moth looks and behaves like a hummingbird, but is approximately an eighth of the size.

Pete Prown of Rose Valley submitted a photograph of a turkey vulture taken on Hilltop Avenue, where it was "waiting for the traffic to clear so he can enjoy the recently-expired raccoon below. A veritable 'early bird special.'" With their distinctive, red featherless heads, turkey vultures provide an invaluable service of dispensing with rotting animal carcasses. Their heads are featherless so as not to trap infectious material when plunging their faces into the carrion on which they feed.

David Creagan submitted a photograph of a red spotted purple butterfly taken in his yard, showing signs of age or adversity via its tattered wings.

And finally, our regional borders shall be temporarily relaxed to include former Swarthmore Mayor Rick Lowe's photograph of an Eastern box turtle taken in the yard of his Middletown Township residence. It's the official state reptile of Pennsylvania. In my 20 years residing in Swarthmore, I've seen a box turtle about five times in my own yard. Why so seldom? Where do they go?
Lanternfly sightings
Unfortunately a spotted lantern fly has been reported in Swarthmore. If you see one, do as Martha Perkins did: kill it and report it.
Please send reports and photographs of your sightings from within Nether Providence Township and Rose Valley, Rutledge and Swarthmore Boroughs by clicking/tapping the button below!